The richness & elegance a ruffled chair cover can add to a wedding cannot be expressed in words. Good thing this is a blog! I can use pictures. Even if your budget only permits one table (sweetheart?) it adds something very special.
taken from style me pretty
http://3.bp.blogspot.com/_RGOwLCu3v-Y/TVCviCNQeBI/AAAAAAAAAOY/ACcfFEz_Xxc/s1600/Blue%2526purple15a.jpg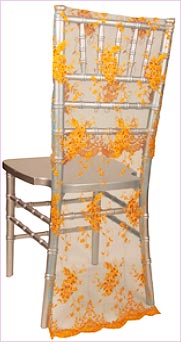 http://www.textilefurnishings.com/gifs/wedding-chair-covers1.jpg
These are over the top and I LOVE it!
http://bridalbar.squarespace.com/storage/feature%20chair%20covers.jpg?__SQUARESPACE_CACHEVERSION=1310237343500